WHERE'S ROBOT?
The boy and his family were busy on the week days, so I went exploring. I snuck onto a bus and then when I got a bit cold, I hopped into someone's pocket and they got off at Arrowtown.
When they were looking up at some ducks flying past, I jumped out and went off on my own.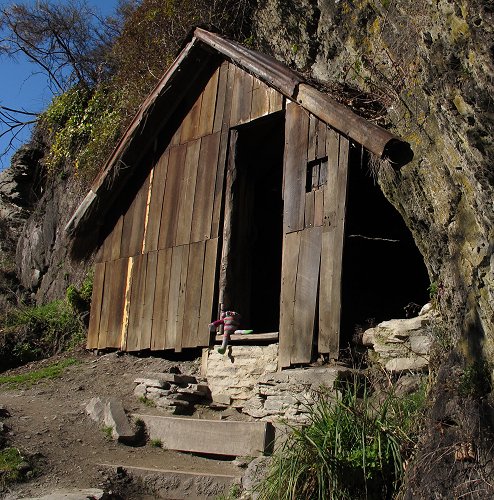 What do you think of my new house? It was a pretty cold place to sleep, but I found some dry grass to snuggle in for the night as my blanket and in the morning the sun was lovely and warm.
I stayed a couple of nights there, then I thought I'd try one of the other places.
This one is a bit less draughty during the night, but it isn't as nice and warm in the morning, so now I live in both houses, at different times of the day.
This is such a lovely place to live, because I can hear the river all the time.
I go down to look at the river every day because there used to be gold here and I thought maybe I could find some.
That's the end of my story (except there's a little bit more if you click Next, below). I don't really have an address for you to write to, but you can still email me.